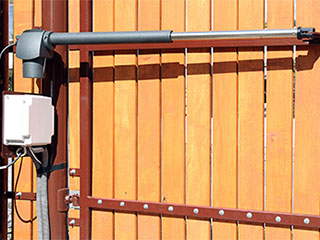 An automatic gate can bring blissful convenience and safety. Pretty much all common modern gate opener systems are electrical. They utilize your main power grid or solar power to control the movement of your automatic gate. These sort of systems have sensors and either radio or network remotes. Of course, the complexity of electric gates makes them susceptible to different types of problems. Here we go over the three most common issues to befell automatic gates.
Struggling Battery Issues

Many electrical automatic gates have openers that utilize emergency batteries. These serve for when the power goes out and will allow you to keep using the electric gate for several to many hours afterward. Gate opener batteries can experience issues due to various factors. Cold weather can disrupt their function, bad circuitry or simply low charge from years of usages or lack of recharging. The good thing is batteries are relatively simple to replace. An electric gate service specialist can advise you of any improvements you should consider. This means enhancing the batteries' design or housing or adding a stronger battery or an extra one.

Main Supply Issues

Your electric gate must have sufficient power for it to work effectively. If your circuitry is incorrect or worn or any of the essential cables that connect to the mains become compromised, the gate will show signs of weakness. In fact, it may not work at all. If the electric gate moves slowly or starts and stops constantly, you should have someone check the circuitry. The gate opener houses the circuit board and main electrical components. It requires a professional to troubleshoot when dealing with circuitry problems or electrical issues. We strongly advise that you seek professional help (preferably from us) whenever you suspect this type of issue. Any problem with your gate related to core power components and wiring you should leave to a pro.

Gate Remote Failure

When your gate remote doesn't work, the first thing you should do is check its batteries. The tiny electrical components within the handset tend to wear and/or break after a while too. If the gate remote still fails to send any kind of signal, it could either need reprogramming or replacement. An expert gate repair technician will know exactly which remote models will work best with your current opener system. If your remote is a radio variant, it can be possible to address signal and distance issues by moving antennas. But often only a trained technician will be able to accurately identify your exact malfunction and deliver a solution that will directly resolve it for the long term.
Electric Gate Troubleshooting
Some problems aren't obvious right off the bat. Many issues can require some expert "detective work" to figure out their cause. An electric gate that reverses instead of closing could have sensor alignment problems or blockage in the tracks, for example. Many issues have similar "symptoms" but very different causes. Seeing as an electric driveway gate is a complex system, you should always leave the repairs to someone with the experience and expertise to handle the task quickly and safely. Gate Repair Euless offers same day troubleshooting to all electric gate owners between the Fort Worth and Dallas area. Get in touch with us whenever you need help. Or - contact us to schedule a free estimate on a new electric gate.