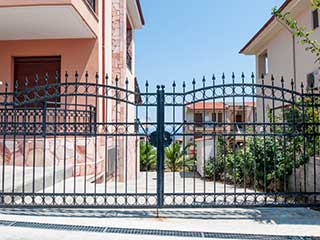 Adding a new gate to your driveway can enhance your residential property in multiple ways. You can seriously increase the property's curb appeal with a beautiful wooden gate, for example. A wrought iron swing gate is another popular choice for people who look for a prestigious residential gate. Of course, you've got various other options. For apartment buildings, many people choose a barrier gate to control vehicle traffic. Some people also go with a metal sliding gate which offers improved privacy as well as enhanced security. The ultimate choice is up to you. But you need to consider all the factors before deciding, in order to ensure you're getting everything you need. And that's something Gate Repair Euless can help you with.
Residential Gate Experts
We are a provider of integrated services for residential gates of all types. That means our services range from repair to installation. Our work includes setting up openers, hinge and intercom repair, rectification of alignment issues, and fixing of other minor parts. That means that you can turn to us for more than just gate installation services. We can also help with any and all problems that your residential system can encounter.
What a Residential Gate Can Offer You
A driveway gate is an important part of many residential houses. Apart from serving as a security measure, it also improves the overall look of the property. Curb appeal is hugely important for many residential homes. It adds a lot to resale value and also makes a good impression on visitors. If you're having your boss over for dinner, or anyone else you want to impress, your driveway gate is the first thing they'll see. It better look good then. Of course, as we mentioned earlier, your residential gate also contributes to your safety and security. It keeps thieves and burglars at bay by preventing access from anyone without your authorization.
Residential Security Gates
In today's vulnerable world, residential security gates for driveways and other areas have become all the more relevant. As a gate repair and installation company, we take care of all aspects. That means helping customers choose from a range of options and builds. From sliding wooden gates to swinging metal contraptions. Our technicians take the entire entranceway into consideration before creating suitable custom designs. With a free estimate + consultation you can ensure that every factor gets taken into consideration. Your new siding or swinging gate will fit the landscape perfectly both in looks and operation. If you want to put a gate on a slope, for example, some types of systems will work better than others. That's why it's a good idea to consult with an expert (and did we mention get a free quote?) first.
Maintenance For Residential Gates
It's equally important to maintain your wooden or metal driveway. That means periodic quality checks and safety tests. But gate maintenance services cover more than the main structure and panels. All parts of the system need regular reviewing and adjustments occasionally. Since gate openers consist of electromechanical parts, they are highly susceptible to wear and tear. In order to prevent damage and/or corrosion, your steel or wooden gate needs a fresh protective coat of paint applied every year or so. Gate Repair Euless has the tools and expert personnel to take care of all your maintenance needs.
Gate Repair & Installation Done Right
Finding a gate company that provides every single service you need can be both difficult and expensive. To make it easy for our customers, we aggregated all our professionals under one roof. Now we offer both same day repairs and custom gate installation and construction. This includes fences too. We also provide gate opener services, meaning repairs and installation. The same goes for wired and wireless intercoms. As one of the most well-known gate companies in the city, we take pride in offering everything a residential gate owner may need.
Automatic Sliding Doors Vs Swinging Gates
Sliding and swing are the two main types of residential gates. They can be further classified based on the opener type. Input-dependent and automatic. Input-dependent systems need you to press the remote or use a smartphone app to open/close the driveway gate. The system won't react unless you provide the input commands. Automatic residential gate openers detect the presence of a vehicle and open or close automatically. They usually use loop detectors to know when a vehicle reaches the designated distance.
Industry-Standard Safety and Quality Tests
Residential gate openers and other parts can break down due to a lot of factors. Hence, we always advise our customers to regularly carry out safety tests. These are part of regular maintenance. Regular testing can prevent problems by catching them early and fixing them before they exacerbate. This increases the longevity of your driveway gate and its opener.
All The Residential Gate Services You Need
Need a problem fixed? Want to have a new gate installed? Our team works with popular brands such as Doorking, DKS, and Ramset. We also install and troubleshoot LiftMaster gate openers of all types. We keep our service rates low and affordable, and our standards sky high. Contact the team at Gate Repair Euless for any and all residential gate repair or replacement needs you have.
Need more? We also provide:

Multicode Remote

Eagle Gate Opener

Solid Sliding Gates

Sliding Gate Rollers