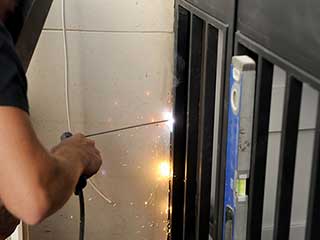 The best way to secure your property is to make sure you have a gate you can rely on. If your gate isn't strong enough to keep out intruders or lets people look into your home, then you'll never feel truly safe in your house. We believe every Euless homeowner should feel secure, which is why we offer a top-quality range of custom gates. We provide everything you need to upgrade your home's security while also making your property look more attractive. Make a great first impression with our range of custom driveway gates, or add a touch of class with a new garden gate. Speak with the Gate Repair Euless team today to see what we can do for you.
Low Price Wooden Gates
This is one of the most popular products around. Wood makes a great material for gates because it's tough and easy to work with. It's also great for providing privacy from prying eyes. We provide options such as large wooden pickets and solid panels that give you protection from onlookers. However, wood needs to be looked after carefully if you want to avoid problems like rotting or warping gate panels. Regular sealing and painting is a must, and our Euless-based representatives are only too happy to help with this.
Custom Steel Gates In Euless
This strong material delivers the ultimate protection for your property. Keep would-be intruders on the outside by installing custom steel gates for your driveway. Steel can be produced in a huge range of different styles, so it's easy to create the ideal gate for your home. We offer everything from chain link gates to intricate designs that create a real statement. Steel requires less maintenance than other metals, but it should still be checked regularly to ensure it hasn't begun to corrode.
Our Affordable Iron Gates
Make a splash by installing custom iron gates at your home. Evoking imagery of classic architecture and high-end townhouses, our range of attractive iron gates provides you with an excellent addition to your Euless driveway. Wow, the neighbors and impress your friends with a custom wrought iron gate, designed to your specifications. As a relatively heavy and rust-prone metal, it's essential to take good care of your iron gates. However, they're well worth the investment.
Custom Gates For Driveways
We offer free estimates on all our custom gates and fences. Our fast, reliable installation service covers the entire Euless area, so wherever you are you can be sure of receiving the best professional attention around. Simply contact our expert representatives in Euless today, and we'll schedule a free estimate for gate installation at your home. What are you waiting for? Why not see how we could improve your property today?