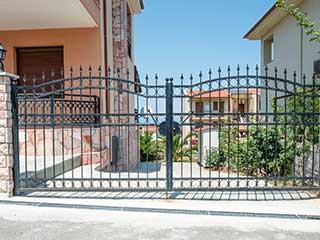 Iron gates are the ultimate in security, function, and style for driveways. The design possibilities are endless and the durability of the materials used to make these gates makes them an all-round winner. At Gate Repair Euless, we can take care of all your repair and installation needs. Whether you're calling us out to a residential property or your commercial business, we'll come to you. Our comprehensive service includes all aspects of gate repairs. We also offer a maintenance check which is really important for parts that see a lot of action like iron gate hinges.
Iron Gate Repairs Near You
When the iron gate in your Euless driveway isn't working quite as it should, you want a repair team to come out fast. We've been servicing the Euless area for a number of years and can fix any issue with the gate and fence around your property. Whether it's welding a broken iron gate bar back into place or changes tracks, rollers or other parts, we'll take care of you.
Affordable Iron Gate Solutions
Some people are very particular with what they want in a driveway gate, and we can't blame them. After all, your home is a reflection of your personality so it stands to reason you may be considering a custom iron gate. Our design team will chat with you to find the best solution for your Euless business or home. Choose a traditional wrought iron gate, or something a little more contemporary. You can also choose to just have an iron gate in the driveway, and add a pedestrian gate in the middle of your fence line. The choice is yours. If you want your iron fences to match your driveway gate, we'll make sure you have a complete look that is sure to turn heads.
Free Estimates On Custom Iron Gates and Fences
We offer a no-obligation consultation to our new customers who are considering getting a new iron gate installed. Our expert installers will come to your home or business to discuss your options and then give you a complete measure and quote. We'll leave the quote with you until you're ready for us to begin installing your new driveway gate and fences. This service gives you the option of starting with the gate installation immediately, or you can put it off for a while and get your finances organized first. Take advantage of our no-risk consolation and let our designer show you how good your Euless property can look with a prestigious wrought iron gate in the driveway.
Gate Repair & More 7-days a Week
It's never too soon, or too late, to have a new iron gate installed. But if you already have one and you need some sort of repair work done, call Gate Repair Euless today. We can weld swing hinges back into place, fix track problems as well as framework damage. We also install iron gate openers and do intercom troubleshooting if that's what you require. Any sort of issue you encounter, our local technicians can handle. Give us a call for same-day service any day of the week.