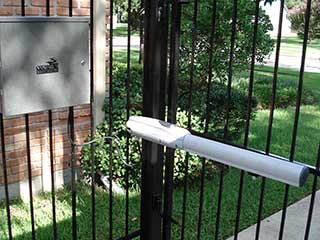 No automatic gate is complete without a great opener. Think about it. You come home after a long, challenging day at work. You pull up in front of your driveway gate, taking a quick admiring glance at the craftsmanship and then you need to pull the handbrake on your car, get out in the dark and open your gate to get into your yard. Once inside, you then need to close the gate before you can finally retreat to the comfort and safety of your home.
The Benefits Of Electric Gate Openers
Just imagine how much easier this daily scenario would be with a new gate opener. We here at Gate Repair Euless have a variety of gate openers from trusted brands such as FAAC, Eagle Gates and LiftMaster. With the right electric opener, you can open and close your gate from the comfort and safety of your car, or the safe confines of your home. Here are some of the most popular gate openers types for you to choose from:
Underground Gate Openers
Most gate openers involve a motor in a metal case next to the actual gate. However, not all people like to have their opener visible. With an underground gate opener, you get all the advantages and automated convenience of being able to open your gate without getting out of your car, but it is neatly buried beneath the surface of your driveway where it won't detract from the aesthetics of your grand entrance. An underground gate opener usually works with a swinging gate. Keep in mind that an underground opener is a little more complicated to install. Therefore, it may add to the overall cost of installing a gate opener at your Euless home or business.
Linear Ram Gate Openers
Linear Ram Openers are the most commonly installed option. Their simplicity is what most homeowners like about them. You can set linear ram gate openers with a mechanical or hydraulic linear actuator. These are ideal for single dwelling properties and you can also have a backup battery installed with them. If you have this type of gate opener operating a dual gate system, you will need to ensure the gates and sensors are properly aligned.
Swing Gate Openers
Openers for swing gates give you several options. You can choose from swing arms that are installed at the top of the gate or ones that sit at the bottom. Regardless of which swing gate openers you choose, both can have a backup battery for power outages. Of course, if your area is prone to extended power outages, you may need to invest in a more powerful backup battery. Swing gate openers are ideal for single or dual gates and you can choose this option for larger gate entrances as well.
The Best Gate Openers Near You
Gate Repair Euless has the perfect opener for your driveway or security gate. Whether you need repairs on an existing unit or would like a new gate opener installed, call us for help and get the best bang for your buck. We repair gate openers of all types and offer same-day troubleshooting 7-days a week.
Want more? Let us take care of:

Wrought Iron Gates

Gate Remote Program

Swing Gate Post Repair

Aiphone Gate Intercoms