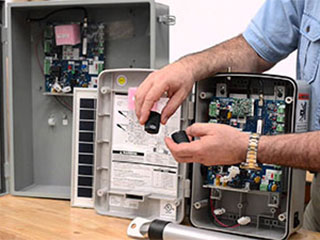 An electric gate is a must-have system when it comes to convenience and security for your property. This applies to both residential homes and commercial establishments. With an electric gate, you can automatically control the comings and goings of employees, visitors, and guests. Plus, you don't have to get out of the car to open or close the sliding or swinging gate.
Silly Question, What Is An Electric Gate?
First of all, there are no silly questions, except the ones you don't ask. Secondly, the name really says it all. An electric gate is any driveway gate (or other) that uses some sort of an electric opener (with a motor usually) to open and close. It can move just like a regular driveway gate with a manual mechanism. Except, you can use a remote handset or even your smartphone (depending on the opener) to control the electric gate whenever you want.
Why Would I want One?
An obvious answer is that an electric gate is extremely convenient in today's day and age. It could be storming outside and the only thing you want is the warm comfort of your house and a nice cup of hot chocolate. Well, the only obstacle is your manual driveway gate. You start mentally gearing yourself up to make that mad dash from your car to the gate and then back to your car again. Not to mention, after you drive through the entrance, you still have to go back and close the gate. Well, if you're not that keen on getting caught in the rain, an electric gate has plenty to offer.
Security and Special Features
of course, convenience is just the surface level attraction. Electric gates offer a greater sense of security and all sorts of unique control and monitoring options. You can get an automatic gate opener that offers Wi-Fi connectivity, for example. This will allow you to control your automatic gate with a smartphone app. You'll also have the option to check its status and see when people use it. If you combine that with a video and/or audio intercom, you can also see whose waiting at the gate to your property. Then, you can choose whether to let them in or not. And you don't have to actually be there at all. Your electric gate and its intercom can communicate with your phone via the internet. What's more, electric gates often have digital locks. That means a pair of bolt cutters won't do for thieves and burglars.
How Do I Choose a New Electric Gate?
Does it seem like there are too many options? Well, you're right. There are many brands and many types of automatic driveway gates to choose from. It may seem quite scary deciding on the right electric gate for your needs. After all, you've got a lot of factors to take into consideration. Luckily, Gate Repair Euless offers free estimates on new gates, and very affordable rates and state of the art products.
Premium Quality Automatic Gate Openers and Accessories
We carry gate openers and intercoms from major brands like Elite, Ramset, DKS and more. By consulting with us you can get excellent advice and a quality product installed whenever you want. Should you have a hydraulic or electromechanical gate opener? Is it better for you to have a swing gate or a sliding gate? These are all questions that we'll help you find the answers to, while still keeping an eye on your wallet! As you can guess, different products suit better to different folks.
What About Installation and Repair?
With us, these are two less things that you have to worry about! An electric gate has many components. The actual gate, the opener, and the motor are just a few of the parts. We're here to install everything for you, from start to finish. Our well-trained technicians will make sure that everything is fitted in professionally and with no fuss.
Ok, and When Problems Arise?
The Gate Repair Euless service team is here to fix, and sometimes replace, any of components if they break. While it's true nothing lasts forever, we're here to make sure everything lasts for as long as possible. Your electric driveway gate can last for well over a decade with the right maintenance and proper installation.
Need More Information?
Here at Gate Repair Euless, we offer any type of assistance to make sure that you're 100% happy with both our products and our service. Contact us anytime to schedule a free estimate on a new custom electric driveway gate. And remember, whether we installed it or not, if your automatic gate runs into trouble, Gate Repair Euless offers same day troubleshooting services. Whether it's Sunday morning or the middle of the week, we can send someone over to quickly fix everything.
In addition, we offer:

All-O-Matic Opener

Gate Exit Sensor Installation

Aiphone Gate Intercoms

Broken Driveway Gate Chain Repair