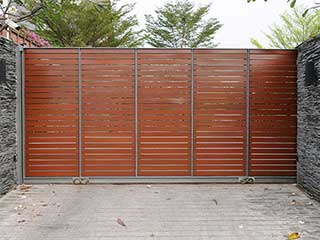 Do you want to make a good first impression on visitors when they arrive at your home or business? Of course you do. And what better way to do so than with a real wooden gate? Make your property more attractive and welcoming with a custom entrance that suits you down to the ground. We offer an amazing array of different designs and styles, so no matter what you're looking for we can find the perfect wooden gate for you. Our Euless-based team is in your area, so why not arrange a free estimate today?
Advantages Of Wooden Driveway Gates
Plenty of Euless homeowners choose to install wooden gates at their property because they look fantastic. However, that's not the only reason why these are such a great choice. With other materials such as iron or steel, people will be able to easily see through the gaps in your gate. Wood lets you block line of sight much more easily, with large panels and pickets that provide total privacy. Combine this with the long-lasting strength and durability of our high-quality timber, and you've got a recipe for satisfaction.
Low Cost Wooden Gate Repair Services
As with all materials, wood needs to be regularly maintained in order to retain its natural beauty and strength. Gate Repair Euless offers a full suite of wooden gate repairs throughout the local area. This means that if your gate needs to be repainted or refinished, our expert technicians can help you. We also offer repairs for rotting, sagging or warped gates too. No matter what the problem is, you can trust our talented representatives to take care of it.
Cheap Wooden Gate Installation In Euless
We're the specialists you need to call when you need a wooden gate installed. Your new entranceway should last for years and years, so why trust it to anyone but the experts? Our experienced team has been fitting custom wooden driveway gates for years, so you can be sure you're getting the best service around. We offer free estimates to all households in and around Euless. If you're considering a new gate for your home, why not get in touch today?
Affordable Rates On Gate Post Repairs
Many of the issues that people experience with their gates can be traced back to problems with the posts. If your gate posts haven't been correctly placed, or have begun to rot, then we can help by repairing or replacing them. Thanks to our many years of experience helping homeowners all across Euless and nearby, we can quickly mend your wooden gate posts and much more. This allows us to provide local folks with a safe and secure entrance to their properties year-round. Our wooden gate post repair specialists know how to fix gate sagging issues as well as rotting and warped wood problems with gates, fences, and posts. Get in touch with us anytime for same-day solutions at affordable rates.
Free Quotes For Wooden Gates
Find the perfect custom gate for your driveway today by contacting our Euless-based team of wooden gate experts. We can fix any problem you may encounter, from rotting posts to sagging and wood warping issues. Don't have a wooden gate installed in your driveway? Want to get one made and set up? Schedule your free no-obligation consultation appointment to see how affordable a custom wooden gate could be.