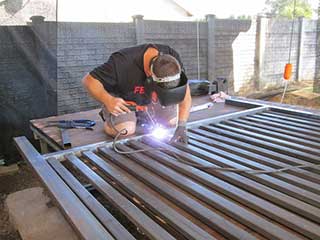 Driveway gates are complex systems. That means that when trouble arises and something breaks down, you'll want to reach out to professionals. That's why Gate Repair Euless offers a range of repair services for gates, their motors and their various components at low-cost rates. We aim to assist anyone near Fort Worth or the greater Dallas area whenever they need gate repairs or any type. That means fixing both mechanical and electrical problems. Ensuring that your gate properly protects your property means taking good care of it. Apart from regular maintenance, that also means avoiding DIY work that can damage the system.
Restoring Damaged Gates
Your driveway gate is the most important security measure of most residential and commercial properties. Unfortunately, it may take damage after a while from accidents, over-use, poor maintenance, old age or simply bad weather. Wooden gates and ones made of metal can suffer from various weather-related issues. Rot, rust and general wear are all major concerns for the condition of your driveway gate. If you're in a moist climate for most of the year, you may need repairs more often than others. If you need to have your automatic gate repaired by a trusted professional, know that you can call us at any point.
Fix That Noisy Gate!
Gate openers and motors allow your driveway gate to become automated. They make coming and going far easier while adding a little something extra in the way of protection and curb appeal. Unfortunately, gates do take damage as time goes by. When a problem occurs, it can cause serious inconvenience. Not to mention, it puts a damper in your property's security. A swing gate can suffer from rusty hinges. Those will squeak out something fierce each time the gate leaves move. A sliding gate can have bent track sections or broken wheels. You'll have no trouble hearing them each time the panel slides. A noisy gate opener is also a cause for some concern. It could be the motor gears or the chain, or some other mechanical fault. If the gate is beeping when moving you should also have an expert take a look.
Gate Parts Replacement
There are plenty of small, unnoticeable components in your driveway gate system responsible for keeping it aligned and ensuring that it continues to operate smoothly. Unfortunately, they have a tendency to wear down after a time due to the friction caused by their moving parts. When they fail from this, it may leave your gate inoperable. So, to keep things running as they should, be sure to have one of our technicians restore your gate's condition with services like hinge welding repair, track replacement or simple realignment. These are but a few of the gate repair services that we have to offer.
Metal and Wooden Gate Repairs
Each material has different issues to contend with over time. We mentioned before that rust and rot can pose some trouble. Certain weather conditions (mainly moist climates) will exacerbate those issues. A rusty gate needs sanding work and a new coat of paint. A rotting gate needs to have the rotted pieces cut out and replaced with fillers. Whether it's the posts or the wooden gate doors, you ought to take care of this quickly to prevent the condition from worsening. Both wooden and metal gates (apart from aluminum) can do with regular paint jobs on an annual basis. This will help protect them from environmental damages.
Gate Repair Professionals Nearby
Live near Dallas? Own a commercial property close to Fort Worth? If you're anywhere around this part of Texas, reach out to Gate Repair Euless for same day solutions to any and all problems. Your security comes first! All our technicians are fully qualified to work on both commercial and residential gates of all brands and models. This includes intercom systems and automatic gate openers as well. Give us a call today and let us know how we can help you!
We also take care of:

Linear Remote

Swing Gate Safety Loops Sensors

Doorking Gate Intercoms

Automatic Gate Troubleshooting