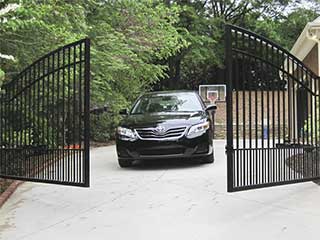 An automatic driveway gate makes life safer and much more convenient. For home and business owners in the Euless municipal area, the most flexible and cheap driveway gate option in TX is on hand. Our experienced team works with swinging, sliding, and swiveling gates of all manufactures. From hinges to openers, intercoms to tracks, Driveway Gate Repair Euless does it all.
Driveway Gates Of Any Kind
Choosing a new driveway gate can be a little overwhelming. Providing expert installation services at a low cost is just the beginning. Our team will be happy to counsel you on the best style and materials. A wooden driveway gate can be very strong and scenic, but if you're worried about cost, maintenance, or weight one might not be the best option. A lightweight polymer or aluminum driveway gate is light and cheap, but not very strong. Metal, composite, and other options all have their own details and perks. When it comes to structure, you might want a user-friendly chain link driveway gate, a majestic swivel gate, or a low maintenance swing gate.
Intercom And Smart Gate Openers
Letting yourself in and out with the push of a button is one benefit of an automatic gate. Another is letting other people in, or not, without having to leave your house or office. An intercom system lets you speak to callers and choose to admit only the ones you're expecting. With the addition of security cameras, smartphone connectivity, and other special features, the benefits increase. Aside from adding communication and surveillance features, our team can diagnose and repair problems with the ones you have. Stripped cables, faulty antennae, and damaged keys and motherboards can all ruin a good intercom. If you have a smart system, our technicians can also resolve software issues and improve your digital security.
Gate Opener Repair And Replacement
An automatic driveway gate opener is almost as important as the gate itself. Swinging or chain link driveway gate openers are mounted inside the fence and pull the gates open. Heavy-duty swiveling gates have their openers underground, where they turn the pivot posts. Even if you insulate your opener against the elements, there can be problems. Power failures, motor jams, or remote control connectivity issues all happen. Our team can handle any style of opener' hardware failures, and can also rewire cables and replace faulty remote control systems as needed. If all else fails, you can get a brand new opener at low cost from several trusted manufacturers whose products we stock.
Driveway Gate Repair Euless Awaits!
Give us a call any weekday, and Driveway Gate Repair Euless can make an appointment at your soonest convenience. All of our gate installation projects include a free estimate, to ensure you know what you're paying for. Appointments are available anywhere within city limits. Let us hear from you soon!